Fräulein Maria's Bicycle Tour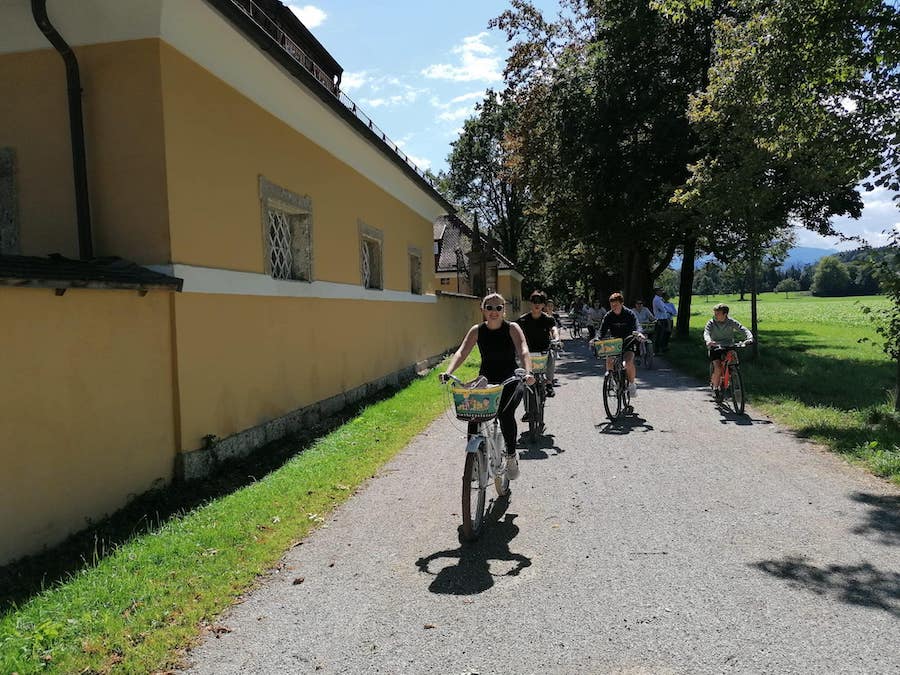 Fräulein Maria on Facebook
Have you just arrived in Salzburg? Or are you planning to come to one of the most beautiful cities in the world and want to see as much of it as you can?
Did you grow up watching the Sound of Music and are dying to see where those beloved scenes were filmed?
Then this tour is for you! We, Salzburg's only bicycle tour, charge less than the bus tours, but offer you so much more. We take you to places other tours will only show you from the road. We take you to locations buses can't even reach.You don't need to be a The Sound of Music fan, or even to have seen the film to love our tour!
Our guides aren't bike racers or stubborn history freaks, but they love the movie and being outdoors, they know the city and most importantly they love sharing their passion with you. We have a mix of native English speakers and original Salzburgers in our team, and this combination might be one part of our success.
We use Cruiser bikes with 7 gears and very comfortable seats. Your arms will be well stretched out and your back upright!
The most difficult thing about the tour is forcing yourself to get off the bike at the end of the day and back on your feet =). We know how boring long bus drives are for kids so we love having families come along! We have a wide range of different sizes of children's bikes. For boys and girls who can't yet ride on their own or don't feel confident we have child seats, trailers, tag along trailers and a tandem. We have helmets for the kids, and for adults on request. So bring your kids... and drag your husbands... we love them all. We have even had some dogs coming along with us too! If you don't feel confident riding alone we also have an adult tandem bike available to double the fun!We have them in ladies and men's styles. Each bike is kitted out with the name of one of the characters from the film, a basket that can carry up to 5 kilos (11 pounds) and the best feature of all - a huge Fräulein Maria Ding Dong Bell making you unstoppable...
Tour Information
Departure(s)
9.30am Daily (plus 4.30pm in June, July and August)
Group Info
For +10 groups we have special discounts and provide special times
Inclusions
Guide
Cruiser bike with 7 gears
Additional
Euro 25,- per person 13-17 years
Euro 20,- per person under 12 years
We prefer payment being made in cash on the day to the guide
Please arrive at least 10 min before departure time.
Private tours can also be arranged for anytime April – October.
 Reviews
There are currently no reviews for this tour.
Write a Review
Sign in to leave a review. Not a member and want to enjoy our great benefits? Join here!